GET THE COMPLETE GUIDE TO SOLAR
Learn how to go solar, make the most of it, and fight for solar rights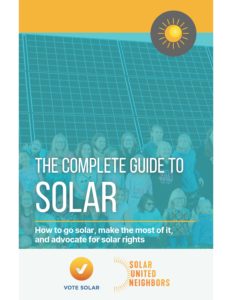 There are plenty of reasons to go solar, for you, your community and the planet — from saving money and becoming energy independent, to reducing pollution and protecting the environment.
But big fossil fuel interests want to keep you from choosing solar. They've made it hard to navigate how to access solar power and unlock its benefits. That's why we've created The Complete Guide to Solar.
Download the guide to learn the ways you can go solar, how to make the most out of it, and advocate for solar rights for communities across the US.